Homecoming parade begins at 2:15 on the south edge of Main Street today. Pep Assembly will follow. The Homecoming ceremony begins at 6:30 tonight prior to the 7:00 kickoff. Go Cardinals!
2023 Fall Homecoming Court! Freshmen- Aseel Albawardi and Stratton Young Sophomores- Raegen Black and Deitric McDaniel Juniors- Grace Doss and Grady Ditgen Seniors- Jailyn Adolph, Ada Meyer, Alex Bittner and Jack Voth, Colter McDaniel, and Kason Messenger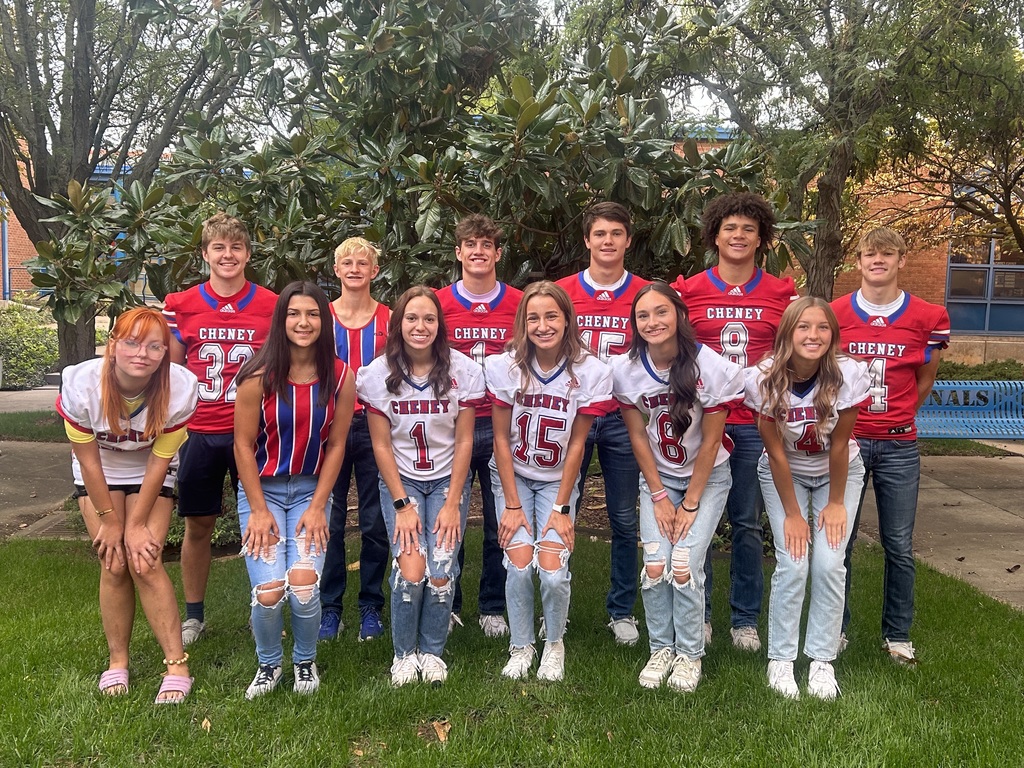 Game announcement- the JV football game scheduled for today in Garden Plain has been moved to now be a HOME game. Game time is 6:00 and will be played at Cardinal Stadium.
Cardinal Club Block Party is Friday Aug. 25. Get out and support the Cardinals prior to activities starting. See you there!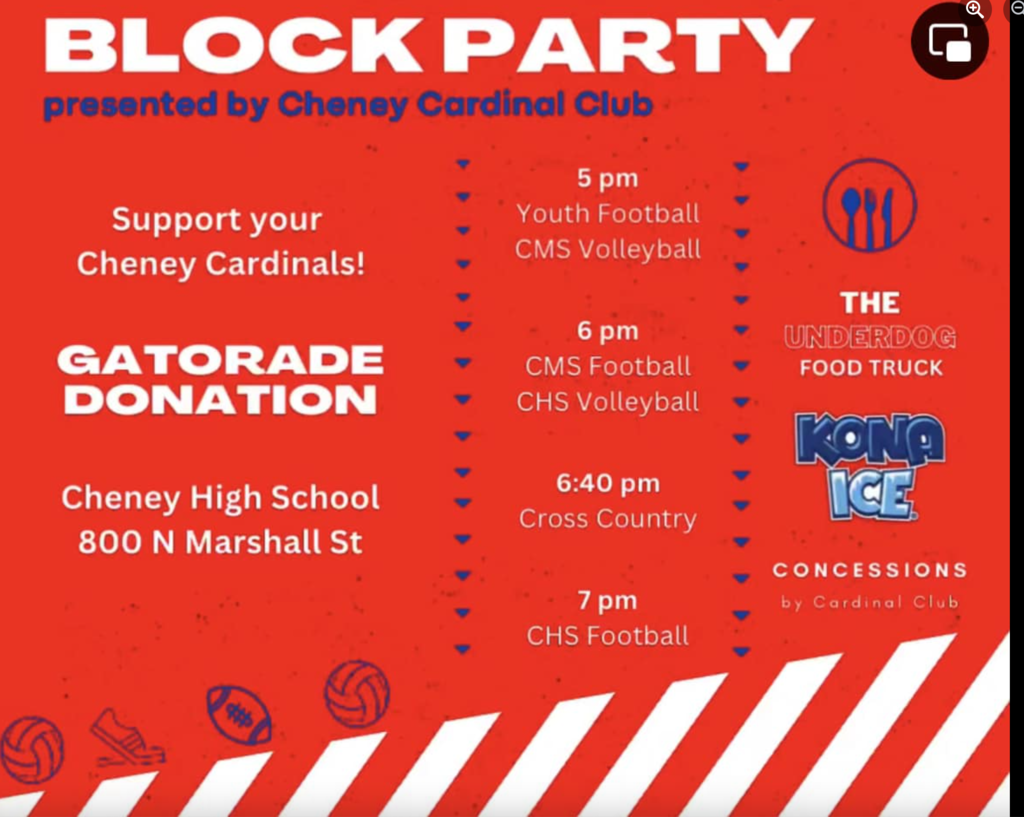 Quick reminder: CHS class organizational meetings will be held Monday, August 21st at 7:00pm in the Commons.
We are looking for individuals to join the team and help make the upcoming school year a a successful one! Cheney Schools are hiring Bus Drivers for the 2023-24 school year. The district will pay for CDL training and certification. Increased starting pay based on experience level. Contact Mr. Woofter at
mwoofter@usd268.org
if you are interested in learning more.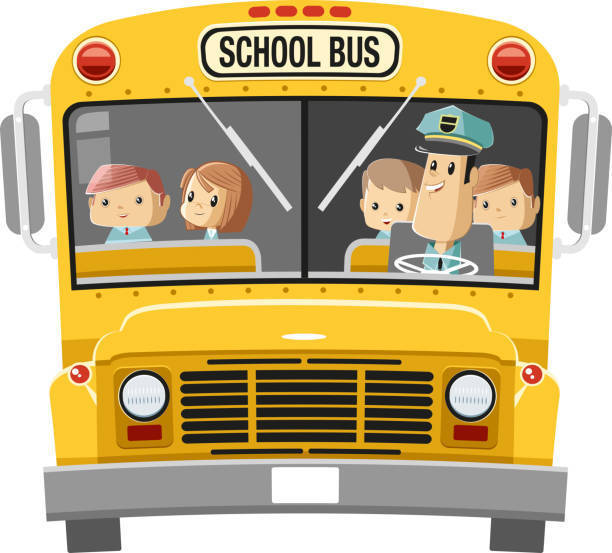 Join USD 268 staff and community members on Monday afternoon at the White Barn to celebrate the retirement of Superintendent David Grover! The reception will be come and go from 2:30-3:30. Mr. Grover has successfully lead our district for the past eleven years and we look forward to sending him out in style!
Cheney baseball splits with El Dorado, a 3-1 win and 11-1 loss. #GoCardinals
Congrats to our Eck Agency CHS Activities Students of the Week! They all have received their State FFA degree, the highest honor awarded. From left to right: Wyatt Jarman, Payton Ryba, Kade Wiliams, Camryn Devore, Aubrey Strodtman and Cord Womack (not pictured) #GoCardinals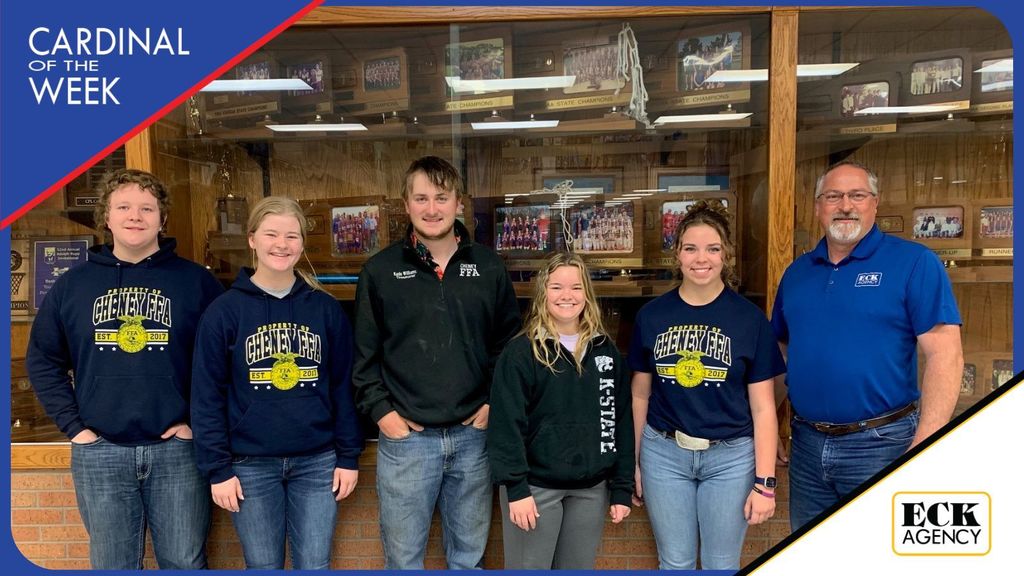 See you at the games tonight for food and fun! #GoCardinals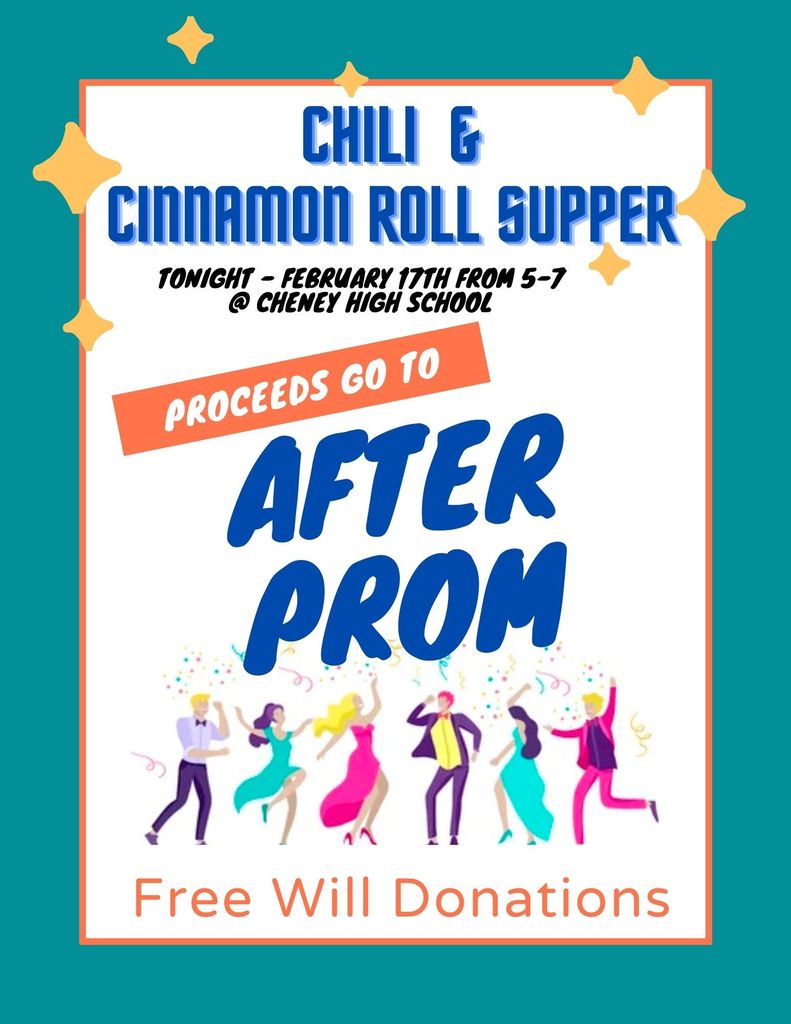 Today we welcome Mr. Jason Cline to Cheney as our next superintendent candidate! Mr. Cline is currently the Superintendent of South Brown County, USD 430, where he has served since 2017. He has also been the Principal/Superintendent at Hay Springs public schools, Hay Springs, Nebraska. Prior to that, he was a building principal in Wellington, Kansas. Mr. Cline has worked in schools as a teacher and assistant principal in Liberal, Atchison, Hiawatha and Topeka. If you'd like to meet Mr. Cline, he will be at the White Barn today at 4:00 for a staff and community reception.
Today we welcome Superintendent candidate, Mr. Tim Hayden, to Cheney! He is currently serving as the Principal at Amelia Earhart Elementary – USD 265 Goddard. Mr. Hayden began his teaching career at Meadowlark Elementary School in Andover. Hayden was recognized with the prestigious Kansas Horizon award in 2003. Hayden has also been principal of Andover Central Middle School for 10 years, as well as Valley Center Middle School principal from 2008-11. In 2011, Hayden was honored with Kansas Middle School Principal of the Year. He is on track to complete his Doctorate this spring. If you'd like to meet Mr. Hayden, he will be at the White Barn today at 4:00 for a staff and community reception.
Thanks to a group effort by USD 268 staff, parent and student volunteers, and a generous donation from the Stan Ast family, 49 trees were planted at the Cheney Sports Complex to create a wind break near the softball field!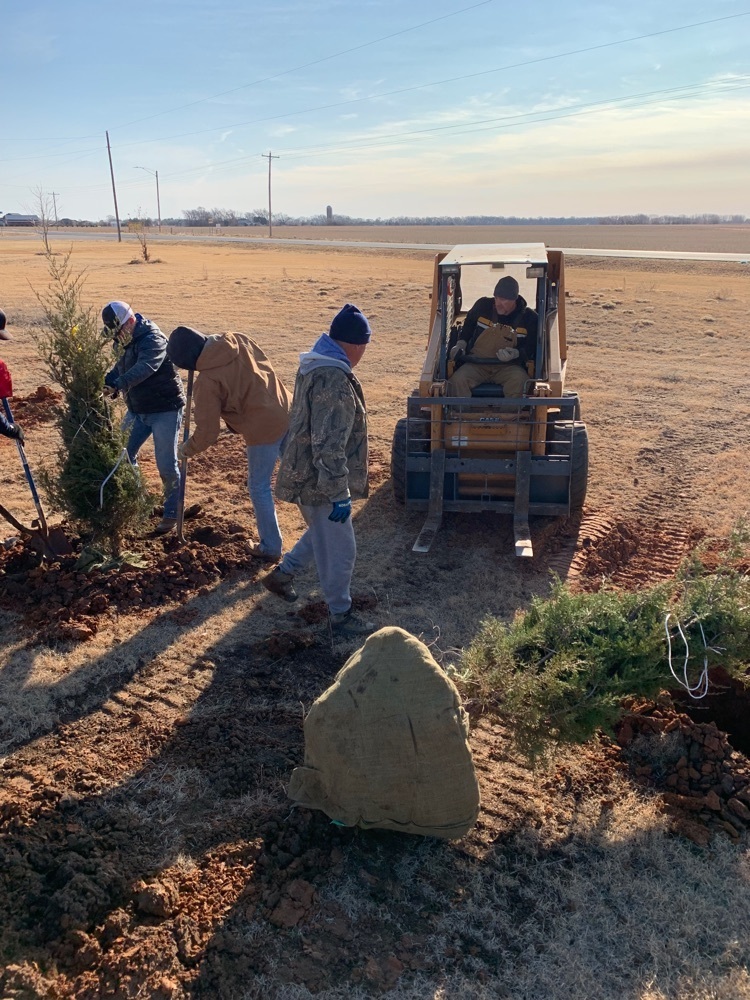 CHS Sophomores getting to learn about all kinds of exciting careers at the Career Expo in Hutchinson!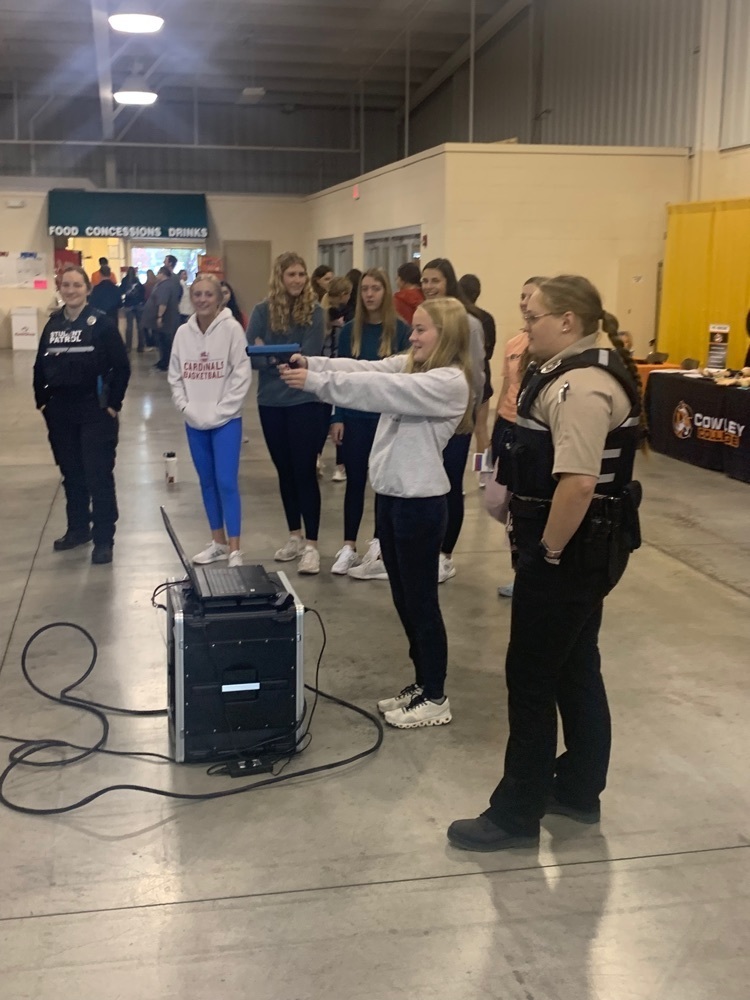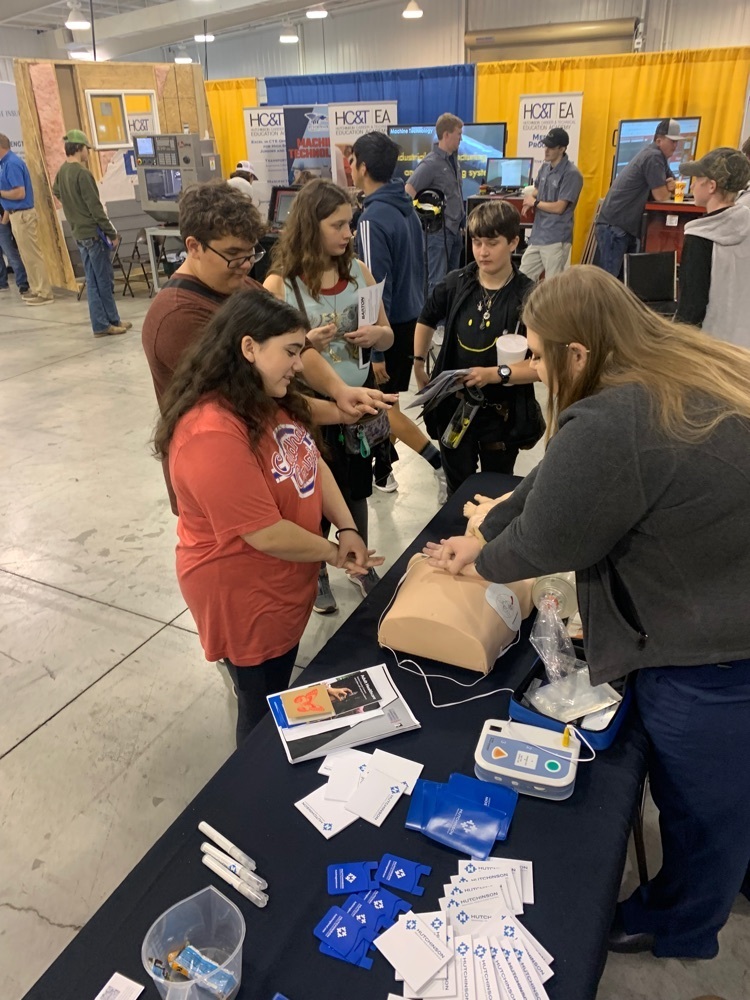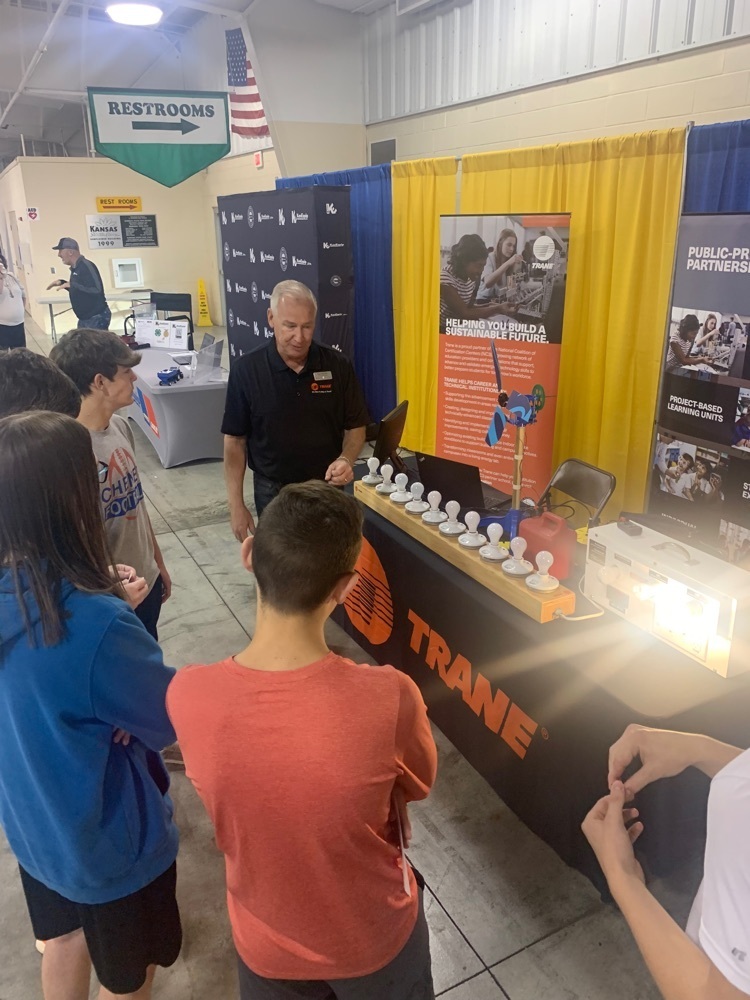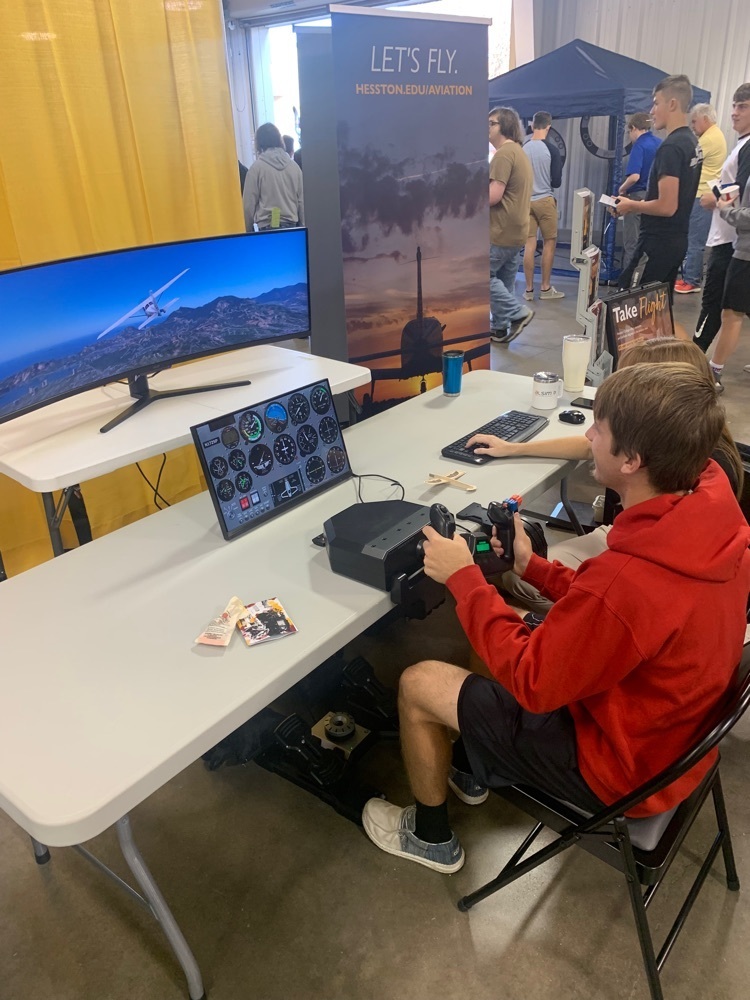 The Kansas Association of School Boards in coordination with the Cheney USD 268 school district is conducting an online survey to seek input on desired characteristics of the new superintendent. The survey will take approximately five minutes to complete and can be accessed at the following link:
https://www.surveymonkey.com/r/USD268
Thank you to the CPD, CFD and our CHS SAFE team for hosting this event next week!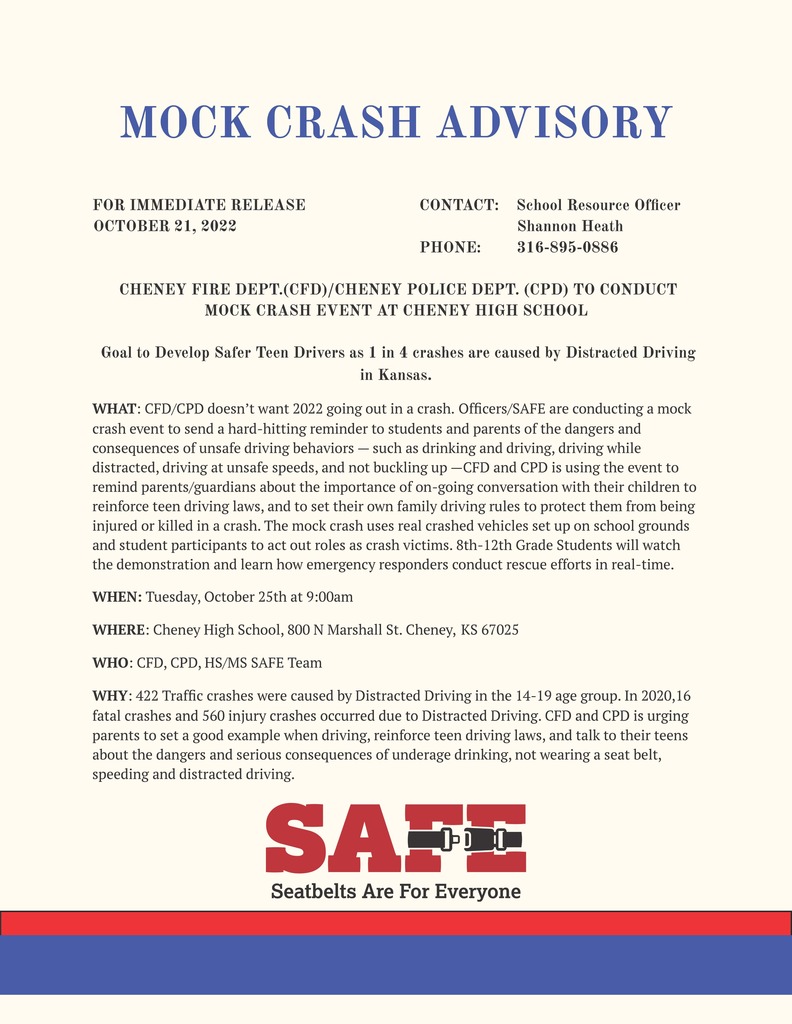 Cheney USD 268 - Now Hiring!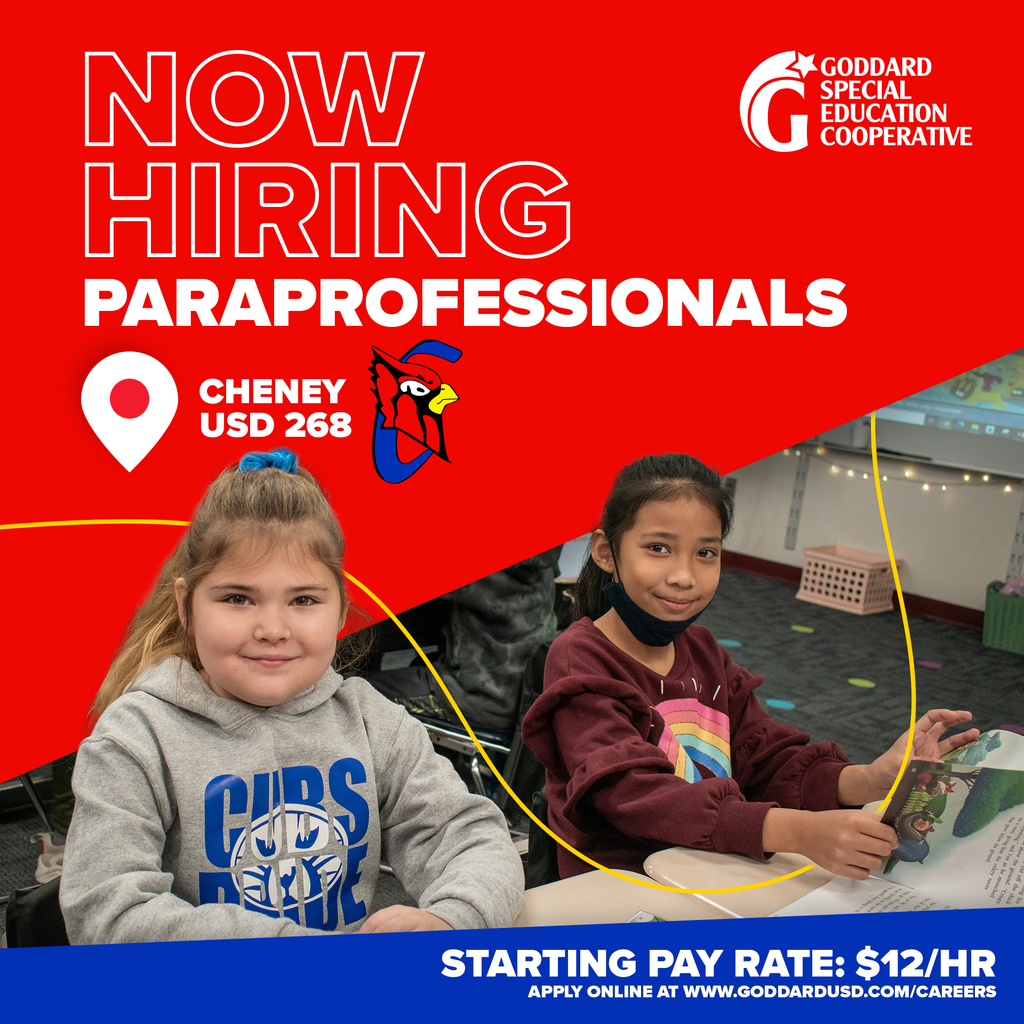 At last week's USA Kansas Conference, Mr. Grover was presented with an award as a finalist for Superintendent of the Year!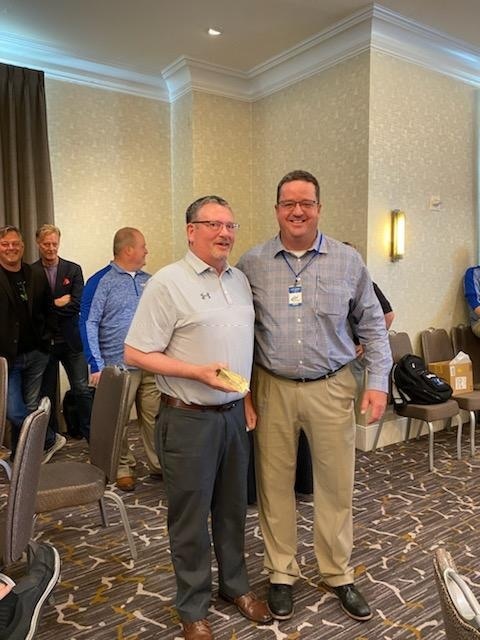 USD 268 is proud to present the 2022 Friend of Education award to Peggy Gregory. The award was presented by Superintendent David Grover and BOE President Marcia Kampling to the Gregory family at Friday's Vernon Ferguson Invitational Track Meet.